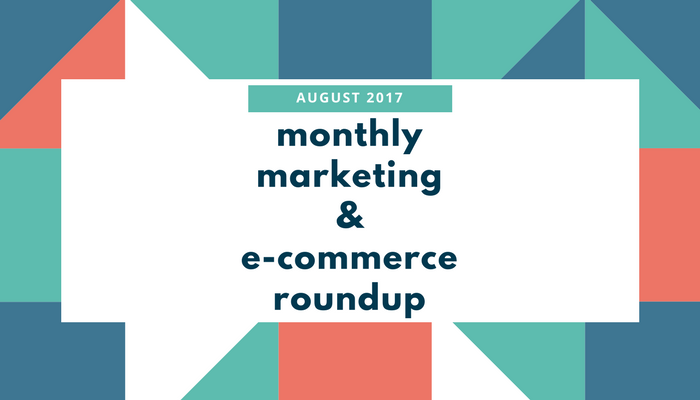 Monthly marketing and ecommerce roundup – August 2018
1st September 2017
With August being the busiest holiday month, we reckon there may be a few important things you might have missed in the world of marketing and e-commerce. So, we've gone ahead and highlighted some of our favourites in bite-size chunks for your consumption!
This month we look at visual searches, Facebook announcements and cart abandonment.
Social media news
Facebook makes changes to paid post boosting
In a move earlier this month, that focuses on brand safety, relevance, fraud and to give brands' more of a ROI on their social investment, Facebook have now limited the types of posts you can boost. Facebook explained the change:
In order to ensure businesses get the most value from their Facebook ads, we are removing the ability to boost some post types that are rarely used and are not tied to advertiser objectives. This change will allow us to improve and expand our most effective ad products, and help advertisers identify solutions to help them reach their goals.
As these 17 post types were rarely used by advertisers, we don't think it will have too much of an impact on businesses. Google are also offering better tools to control where ads appear. It will be interesting to see whether other social networks will follow suit and succumb to advertiser pressures in the coming months.
Facebook announce ranking slower web pages lower in news feed
No one likes clicking on a link and waiting (for what seems like hours) on the page to appear. Facebook clearly understand this frustration. They have listened to their community and are making steps to improve their experience on the platform.
By taking loading time and a person's current network connection into account, Facebook will be making changes to the News Feed algorithm to show people more relevant stories, that load quicker on mobile. Therefore, if your webpages are slow to load, you will likely see a decrease in referral traffic.
Interesting marketing stat
Ecommerce news
Cart abandonment rose by 1.3%
SaleCycle revealed their remarketing report, which looked at 500 leading global companies stats from April, May and June this year. With a focus on retail, the report showed an average increase in cart abandonment of 76.9% across all sectors.
The SaleCycle infographic helps to show some of the key findings, and what's great is they have included a brief insight into how you can increase the add-to-cart rate. One of these suggestions was to include product reviews, something we've been writing quite a lot about recently about our partners at Feefo.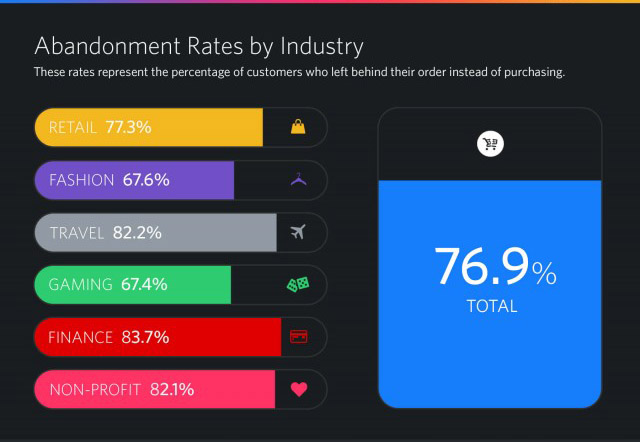 Interesting marketing stat
An app that lets you buy fake followers
Yes, this really exists. The emerging Surkus app allows you to invite and pay people to come to your event. No more having to worry if all your marketing and PR efforts have paid off. This app disrupts the norm and gives brands the power to connect with an audience directly by paying them for their time. Essentially a matchmaking service for businesses, it has received criticisms on how useful it is in the long run. Although this app will help create that all important buzz and numbers for your event, what's the point having people there who have no connection with the brand, except for the money?
Depending on it's success, it may be some time before we see this app being used in the UK. But, will businesses be convinced in seeing the long term benefit in this?
ASOS reveal a visual search filter for their app
ASOS are one of the largest and popular online fashion retailers. So it's no wonder that they are the first to announce this new feature to their ever popular and award winning app.
ASOS want to enable their shoppers to capture what inspires them in everyday life, and 'discover' a similar item and suggestions from the thousands of products on their app. I've tried it and it's awesome.
The artificial technology behind this feature isn't perfect. But by being able to identify shapes, colour and print, gives shoppers the option to discover more products and engage with their site. And this could perhaps lead to more sales. We call that a win win!
If you need help with your marketing, then please get in contact with the sales team at sales@sellerdeck.co.uk